Hifumi - Case Study
Easy to generate the document, easy to change design.
That's was the reason to adopt Report Engine 2 to our system.
Hifumi is funeral director which is based in Tochigi prefecture. Business includes sales of flower arrangement, food & beverage, etc. Since 2008 they have expanded business and introduced Salesforce CRM as core system.
Customer management has become important role for business expansion
In this business, sales are counted by funeral ceremony or per person in life time and pricing and value change drastically. Hifumi is the same and since they have related business such as flower sales, foods, and other arrangement, it is important to have long term relationship with each customer, and they were in need to have a system to manage customer information.
Previous system was arranged by per ceremony and could not manage to have information per customer. To have this information, they needed to spend additional fees to modify system and also this system was organized for 'operation' process. Since they have expanded the business, they were in need to better system to control customer information.
Requirement in order to introduce new system
Requirement A: Customer management (CRM)
Customer status (phase)
History of business by customer
Information on other business to the customer
Information on relationship between customers
Requirement B: Operation structure
Sales, money received, receivable amount
Even and sales status management
Order note to each department and management
Quotation and receipt issuance and management
Adopt Salesforce CRM
The above requirement A was going to be managed by Salesforce CRM, however they were not sure if Requirement B was also going to be covered. If not, they will have either two separate systems to operate with requirement of version up with high cost. They had to avoid the high cost and having two systems.
Another issue they had till last moment was reporting. Accumulated data is shared among internal operation and also report to offer customer had to be given. Therefore how they keep data and how and what they are going to design were important task.
Conclusion – customization of report with ease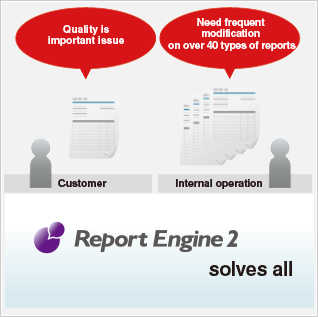 Report Engine 2 of OPRO Japan was answer to solve Requirement B. We have over 40 types of reports and require very frequent changes due to type of our business. This status and strength of Report Engine 2 were matched for them and they have started the preparation of introduction.
In consideration of Report Engine 2, customization of Salesforce CRM started and unfortunately it took longer time that they expected. Since they had given a word to cease contract with previous system, and within such a short time, they had to prepare report layout. Unfortunately they did not have an expert or a dedicate person, they were overloaded with issuance of invoices and receipt while they were in progress of designing. They did not have time to inquire by mail and wait for reply whenever they had question or needed clarification. What made them to progress was out support service.
Best merit is keeping everything in best status
Lots of Salesforce CRM users think and operate to use as CRM only, but they think that what they earn from CRM, they should make use of it for further sales. Since they are located remote area but not in large city, there is a habit of preferring old fashion. It means that people are still expecting to have everything in paper but not over the computer screen. To overcome this, friendliness of user interface was key point.
The previous system we had required to be modified by system integrator with high cost and time consuming order. However, current system they have allow them to modify internally, reduce cost and time dramatically. They can spend in offering better product and service to customer as a result.
Product
* Please be noted that customer information stated here is as it is at the time of publication