Fuji Xerox Co., Ltd. - Case Study
Using OPROARTS for Core Business Document output from AS400
Using OPROARTS for Core Business Document output from AS400
Fuji Xerox was using dot printer to print, save, and control invoices from AS400 in their business points. By adapting OPROARTS, load balancing print from Web was achieved and as result, managed to reduce cost in wide range such as paper, maintenance fee, and labor resource.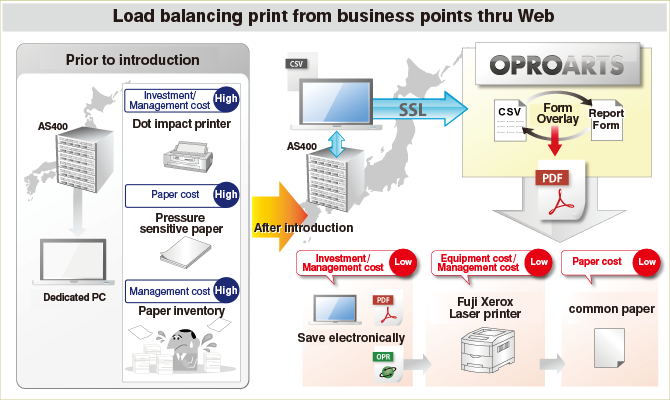 Major Effectiveness
Stop pressure sensitive print and print with common paper – Reduce paper cost
Stop dot printer and use laser printer – Reduce maintenance and management cost
From paper to electronic data – Increase security and reduce management cost
Control system investment – Use CSV data
Reduced total management cost
Develop plug in software jointly for OPRO X Server
In order to achieve this system, we have jointly developed the plug in software for expansion of OPRO X Browser to control laser printer of Fuji Xerox without programming.
By using this expansion plug in software, it would allow to control printer option without programing from OPROARTS and OPRO X Server. Functions such as tray control, both side, staple etc. can be controlled without programing will certainly increase the usability.
Product
* Please be noted that customer information stated here is as it is at the time of publication