SHiDAX COMMUNITY CORPORATION – Case study
Protect the quality of delicious dish in nationwide chain restaurant by IT power
~Delicious recipe by OPROARTS~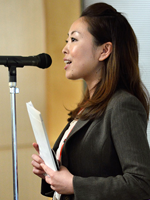 Ms. Mina Kobayashi,
Menu Development
SHiDAX COMMUNITY CORPORATION who operates 'Restaurant Karaoke・SHiDAX' where you can enjoy tasty dishes while enjoying Karaoke, In order to provide delicious dishes to customers, staff at each restaurant has to follow the menu developed by menu development department of head office.
We have interviewed Ms. Mina Kobayashi, Menu Development Department how they use OPROARTS (Live) in order to deliver 'easy to see and less error' recipe to each restaurant.
Deliver developed taste as it is
Do you know that 'Restaurant Karaoke・SHiDAX' has standard menu such French fries and deep fried chicken, and in addition, concept menus depending or seasons and trend. For example, during cold period, thy have 'Ishikari Nabe' and 'Buta Kimuchi'. For customer who want to enjoy sweets, there is 'Monthly Sweet'. In order to provide the concept menu like this to customer, it is very important element not to make customer feel board with similar menu.
We deployed kintone of Cybozu to deploy developed menu recipe to each restaurant. Trustworthy of data, safety, and inexpensive initial and running cost were one of the best cloud business and it was just ideal for menu development team. However, we heard negative comment from restaurant saying it is not easy to see. We always think about each restaurant who cooks the dishes, we search integration solution in Cybozu site. After careful comparison, we decided to use OPROARTS, which we could make most clear recipe and understand easily.

Create the system that on site people loves it!
There are 3 points that we liked with OPROARTS. Firstly, it was easy to integrate with Cybozu which has live information. Secondly, designing of template is easy. Lastly, this is the product of OPRO Japan who can be trusted in cloud reporting and has many results.
When I used, I really felt that this product was developed from the user's point of view. Just mapping necessary fields for menu to pre-designed repot, we could output it from kintone. Many images can be used and speed of response is so fast and you would forget that this is cloud service. By delivering created recipe by PDF, restaurant who do not have Cybozu account, they can view and print. Of course restaurant staff comments that it is easy to see, and we can expect speedup of new menu deployment.
Full of fantastic function to gain ideas
By integrating kintone and OPROARTS, there are many more possibility to expand. For example, can we make something by integrating order system and information available in mobile and homepage? Can't we send movies to speed up cooking process in the restaurant? We would like to discuss for more services with OPROARTS and get more customer satisfaction.
Major Effectiveness
Integrate with kintone easily and speedy response as on premise
Can create receipt with images
Standardized dishes taste in each restaurant and speed up the work
Product
* Please be noted that customer information stated here is as it is at the time of publication