Digital Sphere CO,.LTD - Case Study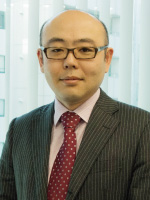 Mr. Koji Takahashi
Digital Sphere CO,.LTD – the specialist of cloud service execution with their slogan 'Achieve software which has clear target and make profit'. As a strong partner of OPRO, we are working closely to achieve customer's business effectiveness and increase revenue.
We have interviewed Mr. Koji Takahashi to hear opinion on OPROARTS how he found it as cloud service specialist as an OPRO's partner.
Stability of invincible pattern by OPROARTS
We have been working to provide customer to gain maximum output integrating OPROARTS and Salesforce, and other product. We came to know about OPRO Japan an over year ago. One of customer who needed reporting system while they were going to get Salesforce. We had given a quotation of 2-3 weeks, since we estimated to develop with Salesforce.
However, the cost balance was not affordable one when we gave quotation for Salesforce license and development fee, and our business was not concluded for some time. Then while we needed to find the solution, we came to know about OPROARTS. Installed demo version immediately and created the template in 4 hours. It was incredible. Since then, whenever we need the report solution, the only solution for us and our customer is OPROARTS.
The biggest merit is customer's satisfaction
Let's compare Visualforce and OPROARTS (Live) on report development. When deign with Visualforce, what you see is text string. Not only coding knowledge but if person who is not familiar with Salesforce see, he or she would not understand what it is. Even the advanced engineer develops, it would not be easy to get output the way he wants.When that happens then output once and need to edit while comparing the code and output. This is repeated until the engineer gets the right output which customer request. As for data mapping, it is similar, and need to write coding for each mapping. Compare to this, OPROARTS (Live) provides easy method, which is just to place characters and tables. Obviously that is done by moving the cursor. Many types of fonts are available where Salesforce supports one type only. Mapping can be achieved with drag and drop. We do not need the engineer to create the document any longer.
When I compare the workload, OPROARTS (Live) needs just 1/5 of Visualforce. If any user rather than IT related would even reduce more workload in time. No technical knowledge is required, and no errors. The biggest achievement for us is that our customers enjoy reduction of development cost.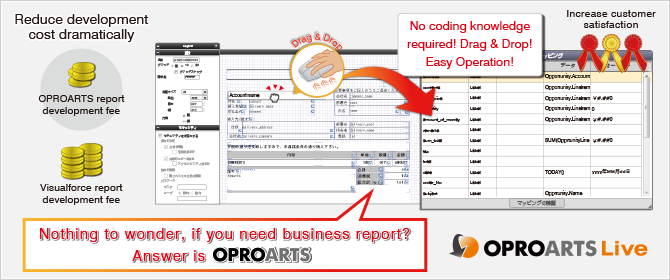 Nothing to wonder, if you need business report? Answer is OPROARTS
I can declare as an OPRO Japan's partner, 'Nothing to wonder, if you need business report with Salesforce? Answer is OPROARTS'. Let's tie up and achieve effective and profitable solution for customers!
Major Effectiveness
Invincible pattern
Reduction of development cost
Increase customer satisfaction
Product
* Please be noted that customer information stated here is as it is at the time of publication