Tsunagu Solutions Inc. - Case Study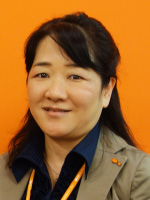 Ms. Rie Teramachi,
Business Management Department
Tsunagu Solutions Inc. was established on 2007 as an ever first consulting company in the industry for part timers. Business model of one stop for 'setting employee opportunity', 'management of progress', 'interview service', 'support potential power', and 'organization diagnose' has been keeping record of increased revenue for 8 consecutive years since establishment. We have interviewed Ms. Rie Teramachi on fascination on OPRO products, who is challenging for organizational system evolution based on the company's culture - 'Break and Create'.
Evoked with Next Generation OPRO Products!
Due to business expansion, what I was requested by the management was to review system control and first idea it came to my mind was to despite of division, department, and group, unify all the information and manage the system. One of patterns that the venture company like us often encounters is adopting popular system without properly reviewing, and as a result, information is mixed up. In order to avoid that, we always need to proceed by keep future expansion. We started with Sales Management System which was still not completed at the time of deploying new system.
We have selected kintone as a database, as we had in mind of SFA and scale merit. As for Sales Management application, we decided to use OPRO products which have many various type of customers and next generation model was one of biggest fascinations. However, even deploy OPROARTS, our organization's monthly invoice fluctuates monthly depending on sales, and we needed to customize. NICS Co., Ltd – OPRO's partner had taken this task.

D3 Worker which allow Data on Cloud Come and Go
Customization of OPRO's 'Quote/Billing Option' let us to complete system within 2 months since the specification was concreted. It is user friendly as specification is set for customization in view.
We introduced Informcom Corporation's eco Deliver Express, which convert report data to PDF and deliver on the web. Report data is passed to accounting department as it is. These are all done by using OPRO's D3 worker, which communicate cloud to cloud. Originally our sales management and accounting were controlled manually, this achievement was huge evolution. To continue using this system, pricing method of OPRO which is charged by page but not by user is very customer orientated. More pages we need mean more business volume. It means, the price setting is for the user company's requirement and its growth.In here, you can see a model of next generation which OPRO considers future grows.
Report System to All-round Process!
Systemizing sales management is just a start. In near future, we are considering to use report construction to work-load control. We will be maximizing of kintone+OPROARTS for the area we are stacked in the office process. Unify organization information and increase entire employees' efficiency, we will require OPRO products.
Major Effectiveness
Complete 3 Categories of Report/Accounting Base/Application!
Reasonable and Flexible Pricing Based on Requirement of Company Needs
Products Lineup for Next Generation Considering IT Evolution
Product
* Please be noted that customer information stated here is as it is at the time of publication