RICOH LEASING COMPANY, LTD. - Case Study
OPROARTS and Fax Service improves day to day base work
Payment Advice sheet which was sent via fax manually, has been replaced to OPROARTS and its internet fax service. As a result, daily operation has become easy and simple, also it achieved reduction of operation cost.
We have asked RICOH LEASING COMPANY, LTD. about decision making of selecting service in each phase and improvement.
OPROARTS and Fax Service improves daily fax operation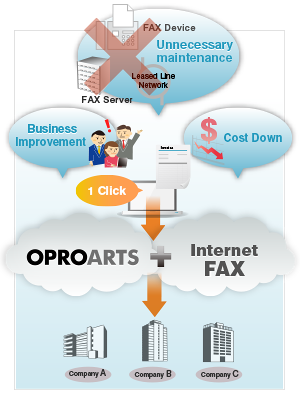 Consideration Phase
Since we have lots if need to send payment advices via fax to a number of our customers, we searched for fax distributors. The problems we were facing to send fax manually and managing exclusive software. We had in mind that if there is a service to confirm the report output and history, it shall also be an advantage. When EDICWORKS Company introduced OPROARTS, we knew this is the only solution.

Deployment phase
One of best features is Cloud service which does not require a dedicated fax line and exclusive software, and we can fax at anytime from anywhere as long as internet is available. Prior to delivery, confirm the document details in PDF. Including initial fees, we managed to get this service with much less cost compare to what we had. The difficult part was due to high security of network access, we could not access to OPROARTS but with OPRO's support and out IT department, we overcome the problem.

Introduction Phase
By introducing to our system, we have confident on fax delivery process which allowed us to achieve huge cost cut as well.

Future Improvement
Not only fax delivery, but use other features of OPROARTS and respond to customer's needs more.
At RICOH LEASING COMPANY, LTD., they have positioned our "Solution Finance" business to provide advanced and high quality services that meet financial objectives for overcoming their client's management challenges. By developing sales activities, which have been unified with the Ricoh Group, RICOH LEASING COMPANY, LTD. intend to cultivate innovation, as well as diversify and strengthen the profit platform.
Effectiveness of Service
Improve fax delivery operation
Huge cost down
Compatible Products
* Please be noted that customer information stated here is as it is at the time of publication