NTT Communications Corporation - Case Study
Shanon・Marketing・Platform x OPROARTS
~Event Operation Technique for the Creation of Business Opportunity~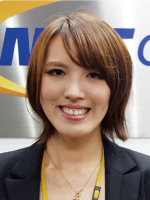 Ms. Minamibayashi
NTT Communications organizes the event 「NTT Communications Forum」in October every year. 4,000 customers who seek innovative solution had visited last year. This Communications Forum is operated effectively by collaboration of Shanon・Marketing・Platform (SMP) and OPROARTS. We have interviewed Ms. Minamibayashi of public relation on utilization of SMP and OPROARTS for event operation.
Event Operation Technique for the Creation of Business Opportunity
The biggest private event of our company 「NTT Communications Forum」utilizes SMP and OPROARTS, mainly in following method.
Firstly, we send invitation generated by OPROARTS with QR code to customers that our sales representatives want to invite. On the event day, we receive the invitations from customers at the reception, and control attendance of customer thru SMP. We collect customer's interest by individual information at each booth and seminar thru QR code. Sales representative can get real time information which customer is at which booth now that allow immediate follow up with the customer. Finally collect the questioner from customer thru which we gather high quality customer information and maximize the effective sales activity.
As stated, by using SMP and OPROARTS 「NTT Communications Forum」has become very important event to create business opportunity rather than providing information of our products and services.

Reduce Printing Cost Dramatically
When preparing event, surprisingly time consuming work is to create invitations. Specially, 「NTT Communications Forum」invites existing customers, therefore customer information on event invitation has to be correct. Customer`s company name, office address, division, title etc. have to be updated. Earlier, each sales representative entered customer information to Excel manually and almost 20,000 data was passed to printing company for print. Obviously it is lot of work and errors occur, and time consuming process to get invitation to sales representative after invitation is printed.
To make more effective this invitation process we introduce OPROARTS which is wise with individual information same as SMP. By this, sales representative can output invitation with QR code from printer by few clicks in SF.one (Salesforce) which is our customer management system. With short notice of event, we can invite new customers.
Also this was unexpected result, since we could direct print by OPROARTS, sales representative had become to update customer data on SF.one (Salesforce) at all the time. When customer data is correct, integrated SMP`s accuracy increase as result, increase business opportunity.
Hospitality Invitation Process to the World
Invitation process is a good reason to visit customer. Delivering the invitation to the customer by hand deepen the relationship with customer. These cultures are typical Japanese. In other countries, it is standard to send entry form by email. In future, using OPROARTS, we would like to apply hospitaly invitation process to the event hold overseas.
Major Effectiveness
Reduce Excel input time of sales representative
Reduce time to reach invitation and print cost dramatically
Contribute to generate business opportunity
Product
* Please be noted that customer information stated here is as it is at the time of publication