Qualica Co., Ltd - Case Study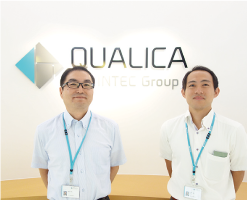 Mr. Fukumitsu and Mr. Mita
Qualica Co.,Ltd provides consistent service to information system of manufactures/circulation companies the consulting, planning, designing, application development, furthermore, finding best match hardware, purchasing, applying and support service. In order to achieve a huge task 'strengthen sales power' that was planned in middle term operating plan, we have interviewed Mr. Fukumitsu and Mr. Mita of Financing Accounting Department who are challenging to unify internal systems.
Target is Sales Reps 'Effective Desk Work'
The target we – finance and account department marked is 'Effective Desk Work' in order to achieve our 'strengthen sales power'. By unifying each system which differs from each department to each branch, achieve effectiveness and see capital's movement and provide as useful information for sales activity and decision making for administration. At first, we selected kintone as a platform of information base, but we soon faced the problem.That is the workflow to image a flow of operation of the company. Our company requires multiple approvals by multiple people and kintone could not achieve this with its standard function.
Cybozu had introduced OPRO's AppsWF at that time.

Workflow that employee doesn't get confused
AppsWF which was just released on the day however with support of OPRO, we have prepared all for actual running. Although we are not development team, it was well made we felt when we started. We could not see the status of process where approval flow is, but with new system, administrator can get the picture all the status. Also since applier is clear what have to be applied to whom, unnecessary request had reduced. Even if there are inquiries on how to operate, since we are looking at the same screen, it is easy to reply with correct answer. Furthermore, even if approver is out of office, it is possible to attend as mobile device is supported. This has increased business effectiveness tremendously.
We are going to get feedback from employees to view the effectiveness, at the same time we already got some positive opinions like 'it became easy to edit when request is not approved.' This is due to, in previous system, system to make quote and approval work flow differed, applicant could not copy & paste and needed to reenter.
Follow workflow strongly with flexibly
AppsWF has flexibility to support organization changes or human resources, and also for technical part, their support service give full support, therefore we have no worries to use. We recommend AppsWF to everyone who is looking for workflow solution.
Major Effectiveness
Implementation in 3 months
Support sudden change of organization and human recourses
Increase business effectiveness and reduce hidden cost by approving while out of office from mobile devices
Product
* Please be noted that customer information stated here is as it is at the time of publication