J&Y Corporation - Case Study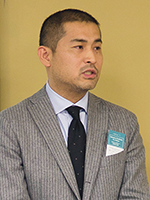 Mr. Yoshinori Saito,
President
J&Y Corporation operates rental business of communication device has been kept the promised to offer 'peace of mind to communicate' to the business persons and tourist travelling worldwide. The products they have is more than 6,000 from mobile phones, battery, plug, router etc. and its pricing range are in wide area with rental charged by sencond. OPROARTS for Force.com supports their complex invoicing process.
We have interviewed Mr. Yoshinori Saito, President of J&Y Corporation on evaluation of service, introduction, operating phase and future improvement target.
Protect important data by cloud
We were handling the products and customer information database in our own server till few years ago. One day, our server overloaded and we had noticed that communication company like us should never work with own server on premise and considered of SalesforceCRM. Once we adapted to Salesforce, backup system was trustable as all the data was managed on cloud, and work process speed up as well. However, there was lacking of function to assist complex invoice information. At that time we met OPROARTS.
Handles Complex Invoice Process at once
Prior to introducing OPROARTS in our system, in order to create report according to customer's request, we had to get an idea from Excel report generated by SalesforceCRM, and following that, enter data and details manually to other invoice software or details software. It required huge workload and also difficulty to keep the accuracy. We are now however, required less time and workload since adapted OPROARTS. Check details in SalesforceCRM and generate invoice by OPROARTS with customers requested design/information. We are free from that huge data entering and whenever there is wonders or queries, OPRO support team is always there to assist us promptly and therefore there are no worries for us to process with business.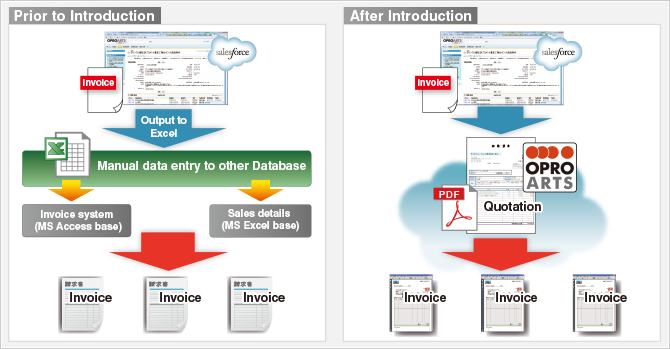 Lost time, to the worthwhile time
Whether cost for introduction was high or not, that is up to us, how we maximize the OPROARTS and work with. We will get the time back we lost for data entering and we are certain that will stand for our business grow.
Major Effectiveness
Data backup system
Accuracy of report generation with data integration
Work process spent for report generation reduced dramatically
Product
* Please be noted that customer information stated here is as it is at the time of publication