CyberAgent Inc. - Case Study
Batch control of invoice process for group companies!
~Grow out from Excel which was must for ERP front process~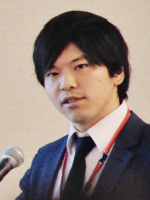 Mr. Yuichiro Kido,
Solution Sales Department
Cybozu Inc.
CyberAgent was founded in 1998, and has been deployed business with Internet, providing 'Ameba', community service and game for smart phone. With their vision 'Build a company to represent 21st century', they have Ameba business, Internet advertising, and Game business are main, in addition, entertainment and community business are some of others. In order to process these businesses, group companies' support is essential and kintone and OPROARTS support their invoice management process for their advanced expenses.
We have interviewed Mr. Yuichiro Kido, Solution Sales Department of Cybozu Inc. on synergetic effectiveness of kintone and OPROARTS for the problems CyberAgent had.
A wall to investment effectiveness
The project CyberAgent had was invoice management process for advanced expenses for group companies. They had following process. Output CSV from ERP's account data, and retrieve advanced expense data of each group company. Process those and convert to invoice data. This process was done manually with Excel. They had reviewed various methods to overcome their problem by systemizing, however, there were other problem such as obtaining employee, security environment, and further, outcome verses investment was not that anticipated one. During that time, as the last hope, they contacted us for our business application platform 'kintone'.

OPROARTS that increases kintone' functionality
With kintone's CSV retrieve function, narrowing function and access control function, most of CyberAgent's requirement was met. However, with only kintone, it was not possible to output specified format output.
OPROARTS supports this. With this, we could reduce individual integration and customize, and deployed system in short period with minimum cost. Also, since the process they were doing with Excel manually could be achieved by kintone, therefore report process load reduced dramatically. Furthermore, created invoice data can be stored as database automatically, it was easy to find data later. The cost effectiveness which could not achieve by customizing ERP for invoice management process is easily achieved by combination of kintone and OPROARTS.
Partner who is trustworthy with many achievements
OPRO Japan Co., Ltd is a partner that we cannot be without for our company. If you use kintone or considering using kintone, you may know that we have listed our partner's solutions in web page. Inquiry for OPROARTS is No.1 since its release. That much customer's needs for report are high. We have awarded OPRO Japan for 'System Coordinator of the year' in 2013 as a partner who had most contributed Cybozu deployment and support. We wish to have further tight partner relationship and solve customer's problems together.
Major Effectiveness
Systemize core business flow in short period with low cost
Reduce workload of report process dramatically
Invoice data to database automatically
Anticipate expansion of further process improvement
Product
* Please be noted that customer information stated here is as it is at the time of publication