IMS Japan K.K. - Case Study
Support safety of pharmaceutical companies by effective reporting
Challenge the difficulties pharmaceutical companies are facing!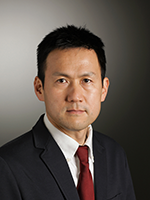 Mr. Kentaro Fujimoto,
CRM/BI Solution
IMS Japan K.K. generates more than 11 billion yen annually, and as a matter of fact, they provide solutions to pharmaceutical companies by collecting, analyzing for developing and selling medicines.
We have interviewed Mr. Kentaro Fujimoto of CRM/BI Solution Department of IMS Japan K.K. who had achieved the effective generation of side effects report using OPROARTS Live.
Legal Reporting System for the Specialized Industry
Majority of our clients – Pharmaceutical companies are spending large amount of time for creating the side effects report in order to keep the safety of medicines. Obviously, the side effects are very connected to patient's health, and therefore one of the most important daily work from the running the company point of view. Once the side effect is reported, MR (Medical Representative) often spends most of time and resource for preparing the report as they need to follow the format and enter the details of the patient from the time of side effect arise and ceased.
MR fills the form manually by inquiring the doctor in charge, after reviewed by the dedicated division in the company, and fax the report to the Ministry of Health, Labour and Welfare. We thought if we could computerize this area, what would be keys. The main important issue is that report is fixed format. Reports can not be edited once it is reported. We need to keep in mind that information has to be accurate and made by overviewing the patient. Therefore it has to be PDF format which can be non-editable. Further, avoiding the unlawful behavior has to be avoided by auto Email of the report which can be checked by MR and dedicated division. Once the planning is concreated, to whom we shall ask for the support of building the system was the final decision.
Flexible and Safety, Various Delivery Methods!
We paid attention on 3 major points - 'Quality', 'Cost', and 'Delivery'. Firstly, 'Quality' was reviewed. OPROARTS integrates with various platforms seamlessly, and as a leading business document/report provider, we were satisfied with their past achievements. Next, is the 'Cost'. Since side effects are not appeared every medicine or every patient, pricing policy of OPRO which is charged per page but not user was very fascinated. Final concern was 'Delivery'. Yes, meeting deadline was also important matter. Indeed, with Visualforce of Salesforce, we could code by ourselves, but the estimation was more than 1 month. However, once we tried OPROARTS Live, with its drag & drop was so easy to operate and I managed to make the format for side effect report in 7 hours. Furthermore, while Salesforce support only one font type, OPROARTS gives us a choice of selecting fonts from many supported. As a conclusion, it was only OPROARTS which could meet with our requirement.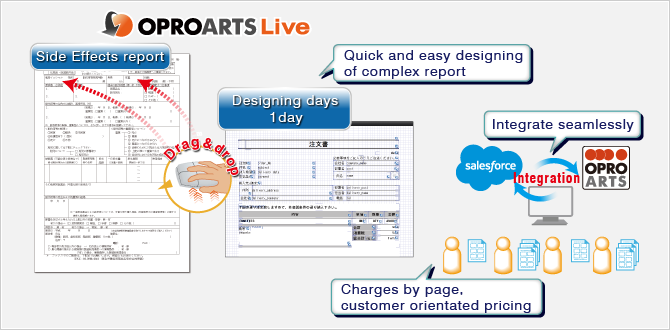 As a Partner for Evolution of Services
We created the idea with OPROARTS, and managed to solve the problem with OPROARTS for our clients. We are delighted to hear from MR that they can spend more time which is their main responsible area while creating the side effect reports. We highly recommend OPROARTS and we would like to support pharmaceuticals to create safety medicines.
Major Effectiveness
Flexibility to integrate with various platforms seamlessly
Customer orientated pricing
Easy designing by drag & drop mouse operation
Product
* Please be noted that customer information stated here is as it is at the time of publication