WevNAL Inc. - Case Study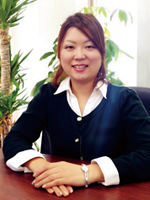 Ms. Anna Oigo,
WevNAL Inc.
WevNAL Inc. provides two types of business. Web promotion of Advertisement and Creation Business are main business provided under the slogan of 'from how to show, to how to be charm'. They are growing steadily in this competitive internet market in just two years.
We have interviewed Ms. Anna Oigo, WevNAL Inc. on evaluation to introduction and operating status of OPROARTS Core.
Ideal System for further growth?
This is our 3rd finical year since we established. The business has been favorable to us and increasing steadily. At the same time, we had noticed the customer information management was subject to look into urgently.
We further realized that we need to have data information management system, and by checking and getting voices from each department for what they are looking for. The outcome was mainly criteria that system has to support. One is batch output of greeting cards/reports and the other was system should be able to output required data for sales and business administration such as expected sales by account executive, by opportunity and by product base. Cybozu kintone and OPROARTS collaboration was an answer.
Achieve in short time with minimum cost!
The reason we decided to introduce OPROARTS was not only the various function they support but cost was main factor. Company like us – newly established Small/Medium Enterprises has limited flexibility with financial investment. In addition to what OPROARTS has to support technically, initial and running cost fully met with our requirement and it speedy availability to introduce as a new system was such a short period – within a month.

Timely information opens path to the future
With the introduction of OPROARTS, complicated invoice preparation process had become very easy and we now manage the same in very much reduced time and cost. We also noticed that errors like duplicated invoice issuance, and double entry have reduced in many aspect. We wish further improvement and functions to be introduced by OPROARTS will be beneficial to Small venture company likes us.
Major Effectiveness
Reduce initial and running cost
Reduce unnecessary operations
Timely information increases business opportunity
Product
* Please be noted that customer information stated here is as it is at the time of publication