JTB Group - Case Study
More than 200 bases in the world, using OPROARTS
- Systemizing business report makes customer's travel 'Perfect moment, always-
JTB Group was founded as 'Japan Tourist Bureau' in 1912 to attract the tourism from foreign countries. With its slogan 'Perfect moment, always' JTB has 482 bases in 99 cities, 35 countries (as of January 1, 2014) and provides travel products worldwide. Of which, they are using OPROARTS in over 200 bases, and supporting customer's traveling.
We introduce the case study of OPROARTS from one of top Japanese travel industry.
More Effectiveness Larger the Business Becomes
If you have travelled with JTB's service, you may know that once you book, several kind of information such as schedule, accommodation information, and other related information are received. Not only the document which is sent to customers, but other documents to any related partners, such as hotels, leisure parks, and transportation companies, the amount of documents are endless and design, create, and send these without any errors, OPROARTS is operated in their system. Since April 2014, the system was introduced in over 200 bases worldwide, with over 50 types of document with monthly 100,000-200,000 pages of auto generation and delivery. With this new system, not only reducing errors tremendously, Email with PDF attachment, Faxing and easy designing on the web by drag & drop operation had achieved huge impact to the business operation. JTB Group is very satisfied with the outcome.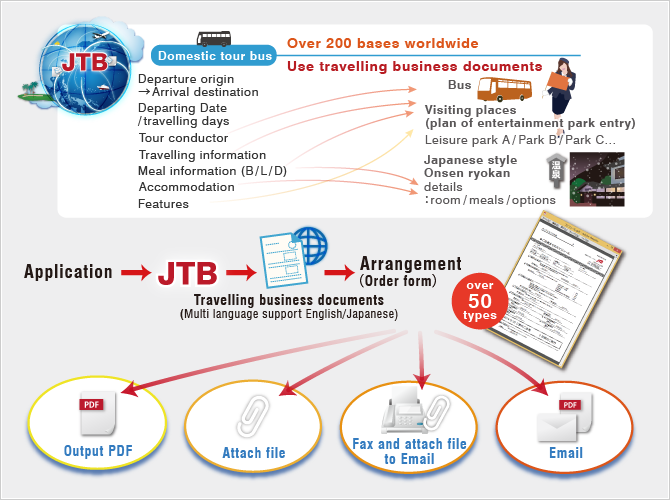 Private License to Utilize Depends on Grow of Business
Private license provides OPROARTS in the private environment according to customer's needs, considering the expansion and security. It means any time when usage increase, customer can scale up, therefore the response speed can be kept and flexibility of environment is one of the key satisfied factors.
Also another merit to use OPROARTS on Salesforce is auto save history. Who has generated when, who has approved when, what was generated, etc. is saved automatically, therefore in one screen, you can view the arrangement status for each customer.
We are delighted that JTB experiences the effectiveness of OPROARTS on a daily operation and rest assured that we are going to provide further expansion of features and services.
Major Effectiveness
Eco environment by paper less business and reduce the expenses
Expandable environment depending on the grow of business
Provide higher quality service according to requirement
Product
* Please be noted that customer information stated here is as it is at the time of publication