Customers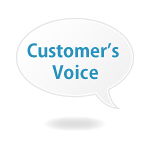 With the latest technology, all our products to meet the needs of our customers have been constantly evolving. Here are the concrete case studies of our customers which we are proud to share.




Amita Holdings Co., Ltd
Reduce workload of approval workflow by kintone x AppsWF
Qualica Co., Ltd
Original Workflow Completed Considering company's Future!
NTT Communications Corporation
Shanon・Marketing・Platform x OPROARTS
~Event Operation Technique for the Creation of Business Opportunity~
PERSOL PROCESS & TECHNOLOGY CO., LTD.
Unify Sales Management・Resource Management! Potential of AppsFS
V-cube Inc.
Operation speed up and avoid errors by collaborating with Salesforce
AmidA Holdings Co., Ltd
Repeat enhancement based on the site feedback, and create systems which matches to user's need perfectly
Tsunagu Solutions Inc.
Challenge on Company Evolution with D3 Worker by Connecting Cloud to Cloud
NEXA Co.,Ltd.
Achieve a total system despite of division and cloud wall!
Cybertrust Japan Co., Ltd
Challenge straightening Customer Relation by Microsoft Dynamics CRM x OPROARTS
Prime Solutions Co., Ltd
OPROARTS Utilization in Law Firm
~One stop solution from process estimation control to issuance of invoice!~
SHiDAX COMMUNITY CORPORATION
Protect the quality of delicious dish in nationwide chain restaurant by IT power
~Delicious recipe by OPROARTS~
CyberAgent Inc.
Batch control of invoice process for group companies!
~Grow out from Excel which was must for ERP front process~
Nikkei Digital Media Inc.
Anticipation to OPROARTS from other division
~Large idea was born from small modification~
ANRITSU INFIVIS CO., LTD.
Hold up safety of food & drug's by fulfilling support service ~Challenge to mobilizing support service~
Digital Sphere CO,.LTD
The partner, we need for customer's business effectiveness increase income.
LIFULL Co., Ltd.
Print request increases to 3,000 times!
Contribute to housing of your dream!
JTB Corp
More than 200 bases in the world, using OPROARTS
- Systemizing business report makes customer's travel 'Perfect moment, always -
IMS Health Incorporated
Support safety of pharmaceutical companies by effective reporting
Challenge the difficulties pharmaceutical companies are facing!
AEON LIFE Co., Ltd.
Build new standard in the industry with IT power!
Documents and Images to OPROARTS
NIHON ESLEAD CORPORATION
Target seamless and paperless information sharing and challenge to reform in house system!
IVY GARDEN
Landscape Gardening Company with Analog System Now on Cloud!
WevNAL Inc.
Further improvement together with Ideal System!
Work Happiness, Inc.
System's Growth is Infinity with Employees 'Enjoyment!'
Mitzba Denyosha
Collection of information improves the tractability!
Better quality and better product – for the customers.
Ecotec Co.,Ltd.
Achieved 180% revenue increase vs previous year in newly build division.
The best product, to Suitable Customer, when Best Time, with Best Price.
J&Y Corporation
Complex Invoice Process Solved at No Time.
Nihon Parkerizing Co.,Ltd.
Convert current auto faxing to OPROARTS and reduced cost dramatically.
-Developed console tool which make conversion to inexpensive cost in short time-
Shanon,Inc.
Shanon Inc. implemented OPROARTS for Force.com(Prime) to operate Sales Management System in Salesforce CRM, strengthen internalcontrol, and improve efficiency of sales related affairs.
RICOH LEASING COMPANY, LTD.
OPROARTS and Fax Service improves day to day base work.
Hifumi
Easy to generate the document, easy to change design. That's was the reason to adopt Report Engine 2 to our system.
PR TIMES INC.
Reduced Cost Tremendously by OPROARTS and its Posting Service.
Mercury Project Office, Inc.
Easy to generate the document, easy to change design.
That's was the reason to adopt Report Engine 2 to our system.
Fuji Xerox Co., Ltd.
Using OPROARTS for Core Business Document output from AS400.
* Please be noted that customer information stated here is as it is at the time of publication