Free yourself from Excel reporting!! Reduce cost by easy reporting tool!!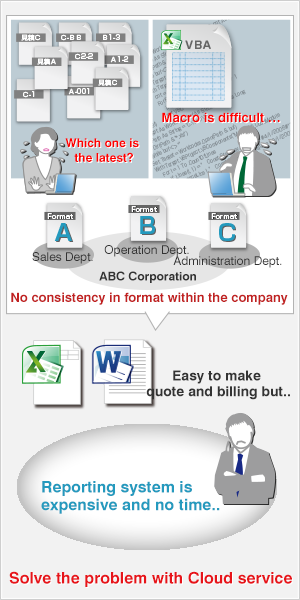 Aren't you creating quote and billing using Excel or Word? Creating report using Excel and Word are convenient to generate by individual, even layout changes are possible to do easily.
However, despite of easiness, following shortcomings are often seen.
There are too many similar files and not sure which one is the latest.
There is no standard in format as anyone can create easily.
Maintenance is not easy due to macro.
Time concern for quote management.
Why this type of problem happens? The reason is that Excel and Word are not application to manage quotation and invoice. Report tool and work system are expensive and time consuming, that's makes people to think twice to get Report tool.
There is a solution, which is very easy. Integrate with Cloud Service, quotation and invoice generation system generation quotation and invoice in a short time.
Further, generated quotation and invoice can be sent to customer by E-mail or fax by clicking one button.
Generate and Management system for Quotation and Invoice are made easily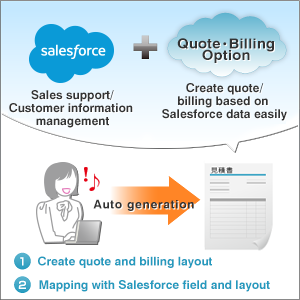 We explain how to use by integrating 'Sales Cloud' which assist sales support and customer information management on cloud and 'Quote/Billing Option' which can be used immediately after installation.
The 'Sales Cloud' which is most used sales support and customer information management tool in the world, provided by Salesforce.com offers fields which display items required for quote and billing as a standard. With this function, by doing below, quote and billing system is created.
Create layout of quote and billing
Mapping of Salesforce fields and layout
This process can be done using standard function of 'Sales Cloud'. However, there is no flexibility in layout creation. Also quote cannot be created till Opportunity is made, only product which is available in product master can be used for quote, etc. hence flexibility is lacking from generating quote and billing creator point of view. 'Quotation/Bill Option' has flexibilities and functions that often required creating quote and billing.
Scene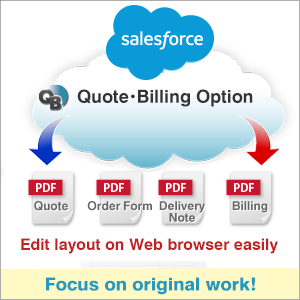 'Quotation/Bill Option' is an AppExchange application which can install and make use in 'Sales Cloud'. It provides essential functions to create and manage qotation/bill, and with those function, it is no time you can generate and managing quote and billing. Some of functions are, auto numbering of quote, copying quote information for each details, add product to detail which is not saved in the product master, and so on. Rather than using the standard function provided by Salesforce.com, these detailed functions will assist all users in managing quote and billing process.
With 'OPROARTS Connector', customer can generate 'Quotation', 'Order Form', 'Delivery Note' and 'Bill' without complicated settings. It is not only that, using its exclusive designer, user can edit customize or design new report layout.
By utilizing specific quotation/bill system, user can focus on original work, free from unnecessary office work! Try Quotation/Bill Option now.
Product