OPROARTS Prime for Dynamics CRM is ...
Cloud Report service to add report generation function to Microsoft Dynamics CRM. Integrate with data from Microsoft Dynamics CRM real time, and output business report in PDF from Microsoft Dynamics CRM. Quote/Billing output service is available.
Achieve information distribution solution from Microsoft Dynamics CRM
OPROARTS integrates with Dynamics CRM – On premise/Cloud Hybrid CRM solution by Microsoft. Together with Dynamics CRM which achieves high level operations by integrating Microsoft Office and Outlook, OPROARTS will generate rich and professional looking report. Not only PDF output electronically, user can achieve automation and high performance as a business application including multiple delivery methods. Similar to Dynamics CRM, OPROARTS can be operated as on premise or cloud. With sophisticated Dynamics CRM OPROARTS provides a total solution from generating Quotation and Invoice in PDF, batch print, emailing, faxing and posting service.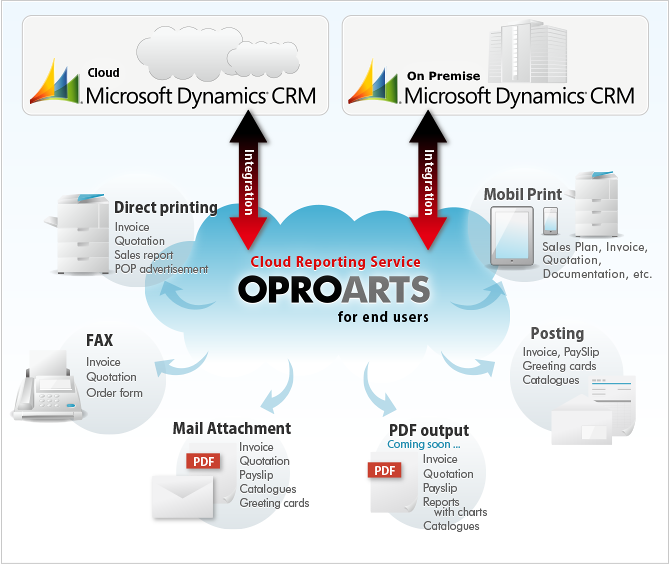 Main Features
Create Report Template Format
Using software for designing, create the complex layout.

Output from Dynamics CRM
Most required reports by Sales department such as Quotation and Invoice can be generated on demand.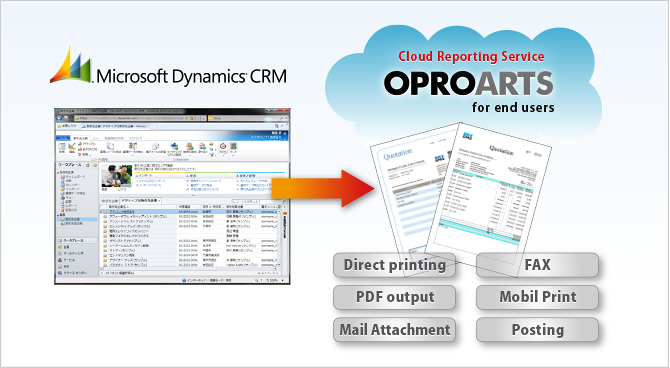 Support faxing and posting service
As an optional service beside PDF and emailing, sending via fax and posting are also supported. Not only invoices, user can use for direct mailing.
Fee structure depending on the number of outputs
OPROARTS Prime for Dynamics CRM price depends on number of user ID, number of report format and output pages, and are charged on monthly basis.