What is OPROARTS Prime?
OPROARTS Prime is a report generation engine and the service that operates on the application platform 'AFRO'- retrieves data for report, pre management for processing or post management such as integrating to external service.
Selectable Service Menu
Licenses are simple and selectable. Simply select the suitable license based on number of pages and report layouts you require. Since there is no restriction on user counts and simultaneous session, our service is suitable to heavy scale users as well.
Further, with 'Enterprise' – single tenant style – it makes VPN service and connection possible which is provided by NTT Communication. By connecting to user's location, user can operate without connecting to Internet. Obviously, 'single tenant' offers no limitation on number of pages and report layouts as long as server specification allow. This service has high demand by heavy users and financial industry with high security needs.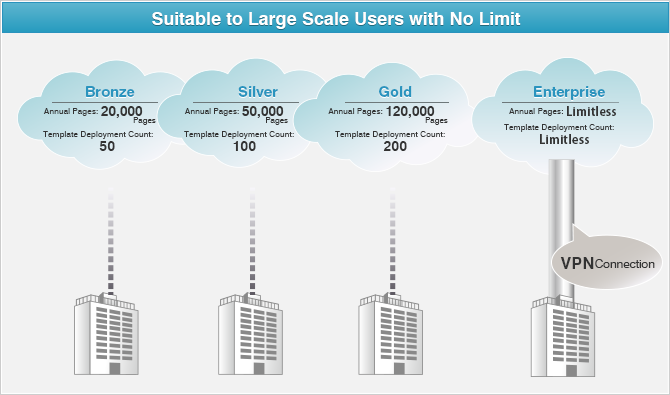 Support Vrious Needs
Not only creating the report, individual application required by user can be run on 'AFRO' platform.
Retrieve data from cloud services such as Salesforce, Oracle, and Microsoft and process the data as required is one of the main features. Also OPROARTS Prime can integrate with 'Fax Service' and 'Posting Service' which dose print document and post on your behalf.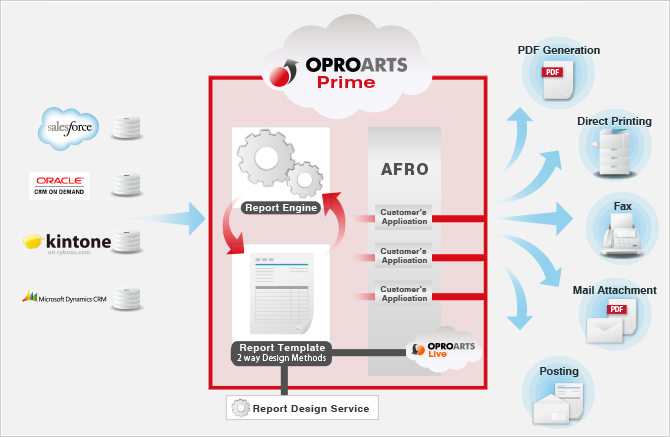 2 way Design Methods
In order to use OPROARTS Prime, 'report template' which defines report layout is required.
There are 2 methods to create 'report template'.



'OPROARTS Live' is an application to design 'report template' on the web browser. Please refer details of OPROARTS Live here.


'Report Design Service' is a service that OPRO's professional staff create 'report template' based on customer's report design. Just provide us your report design in Excel or Word format.