What is OPROARTS Core?
OPROARTS Core is a cloud reporting service which provides the report generation engine with minimum functions. Integrate with in-house system or cloud services and generate reports. It is also charged reasonably, US$360 (US$30/month) for one year with allowance of 1,200 pages.
Incredibly Inexpensive
License is so simple. With an annual cost of US$360, you can generate 1,200 pages! No limitation of simultaneous session makes multiple users access possible.

Varity of Standard Functions
You can request the report generation from variety of system which can send HTTP request. For example, retrieved CSV file from in-house system, request from HTML form, and integrate with in-house system using Java API provided by OPRO.
Various delivery methods are one of the main features. Download the generated PDF file, attache to the e-mail, send fax (*1) and direct print of using exclusive XML file.
(*1)Requires an agreement with Internet Fax Provider.
(*2)OPROARTS Core can not use the application form 'AFRO' which retrieves data for report, pre management for processing or post management such as integrating to external service.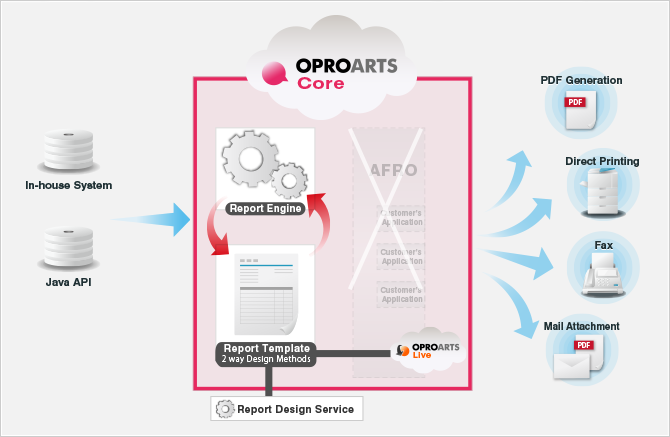 2 way Design Method
In order to use OPROARTS Core, 'report template' which defines report layout is required.
There are 2 methods to create 'report template'.



'OPROARTS Live' is an application to design 'report template' on the web browser. Please refer details of OPROARTS Live here.


'Report Design Service' is a service that OPRO's professional staff create 'report template' based on customer's report design. Just provide us your report design in Excel or Word format.