Report Engine 2 is ...
"Report Engine 2" consists of two main part – WYSIWYG Designer and report generation engine. Once your layout designing is completed, it converts to a Visualforce page which allow you to forget about difficult coding. Visualforce page rendering with PDF will generate the document in PDF format and render HTML to get Form output.
Generate Visualforce page with ease!
Visualforce is function that creates input and output display of Sales Cloud, Service Cloud and Force.com data dynamically, provided by Salesforce.com. By using this, user can generate PDF file with Sales Cloud, Service Cloud and Force.com data, or input Form to save data to Sales Cloud, Service Cloud and Force.com However, in order to utilize this function, user needs to program on XML base. Report Engine 2 is a solution to develop Visualforce page with GUI, drag and drop on web browser without Visualforce knowledge. As a result, development time of Visualforce is dramatically reduced.
Create handy input Form!
Input data in HTML forms created by Report Engine 2 can be saved in Sales Cloud, Service Cloud and Force.com automatically. Important data is centralized on Sales Cloud, Service Cloud and Force.com for easy and secure management. Commonly used forms are available for immediate use.

Free User License!
No matter how many users require to generate PDF output, there are no fees that you have to bear.
Please purchase "Design License" to design layouts. "Design License"is available for annual subscription.
| License Name | Period | Price | Remarks |
| --- | --- | --- | --- |
| Design License | Annual | $360.00 | Allows to save up to 5 templates. |
| Additional Template | Annual | $60.00 | License options. |
Create/edit Quotation and Invoice layout
Easy Merge Designer is an application to generate sales document from Quotation to Delivery Form with data from Sales Cloud and Service Cloud. The document layout can be designed by Report Engine 2. You can customize pre-designed sample template or create own original layout.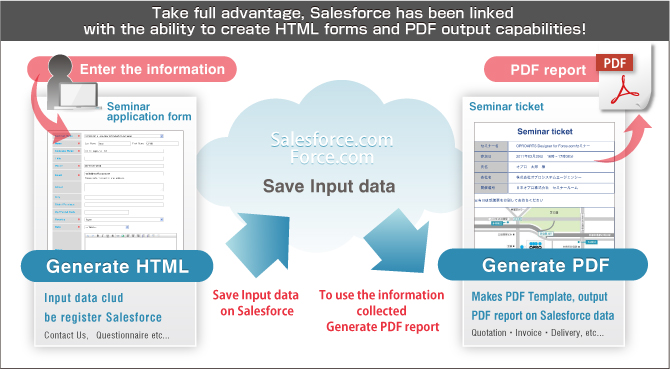 Install now from AppExchange
Application
| | |
| --- | --- |
| Report Engine 2 Trial Account | |
| Install application from AppExchange | |
Installation and Designing
| | |
| --- | --- |
| Installation Guide | |
| Report Engine 2 Account Creation Guide | |